By Emmanuel Aziken:
ABUJA—FEW of the 13 returning ministers may get back the portfolios they held in the just dissolved cabinet, Presidency sources said yesterday.
Snippets of the tentative list of cabinet positions as gathered by Vanguard, showed that none of the ranking members in the just dissolved cabinet may get back the positions they held in the cabinet list that is to be unfolded tomorrow.
Vanguard learnt that the plan by Acting President Goodluck Jonathan to redistribute them despite the intensive lobby by some of the returning ministers and their godfathers followed revelations of schemes some of them had buried in the appropriation bill that has just been passed into law.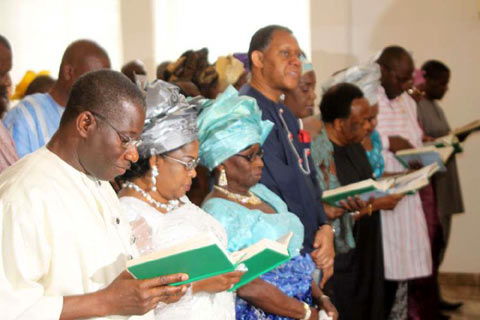 From left: Acting President Goodluck Jonathan; his wife, Dame Patience Jonathan; mother of the Acting President, Mama Jonathan; Minister-designate, Mr. Odein Ajumogobia; his wife, Mrs. Ajumogobia, Special Adviser on Petroleum to the President, Dr. Emmanuel Egbogha and others at the Easter Sunday Service at the Aso Villa Chapel, Abuja yesterday.
Of the ministers returning to the cabinet, only Mrs. Fidelia Njeze from Enugu State is known to have been penciled down to return to her duty as Minister of State, Agriculture, while others have either been taken elsewhere and their former portfolios given to other ministers-designate.
Mrs. Akunyili's former portfolio at the Ministry of Information and Communication, it was learnt, is to be taken by Capt. Emmanuel Ihenacho while the former Minister of State, Petroleum, Mr. Odion Ajumogobia is to take office as the Minister of Foreign Affairs. Vanguard learnt authoritatively that he is to be assisted by three assistants.
Erstwhile Minister of Justice and Attorney General of the Federation, AGF, Mr. Kayode Adetokunbo is to cede his immediate last position to Mr. Mohammed Adoke, SAN. Vanguard could not confirm Adetokunbo's portfolio but there were suggestions that he could be headed back to the Ministry of Labour on account of his wild popularity among the stakeholders in that sector.
Senator Bala Mohammed, leader of the National Interest Group, NIG, and secretary of the Northern Senators Forum, NSF, in the Senate, Vanguard learnt, has been designated as the Minister of Power against suggestions that he could be headed to the Aviation portfolio.
Senator Chris Anyanwu, PDP, Imo East, has, however, urged Acting President Jonathan not to succumb to pressures from godfathers but to assign ministers to the positions they are best suited for.
In an interview, Senator Anyanwu said: "We should begin to put people in areas where they are more suited for. Before you scout somebody to come and work for you, you must have known about that person, his antecedents and capability to deliver, and you must have a clear idea of what you want to do with that person."
The cabinet is expected to be inaugurated tomorrow.
Viewed 7493 times by 2465 viewers