OUTSPOKEN sports administrator, Martins Osaile popularly known as "Don King" has predicted doom for newly signed Technical Adviser, Lars Lagerback. Osaile still sympathetic to demoted Amodu Shuaibu said that the Swede would crash with the Eagles in the World Cup in South Africa.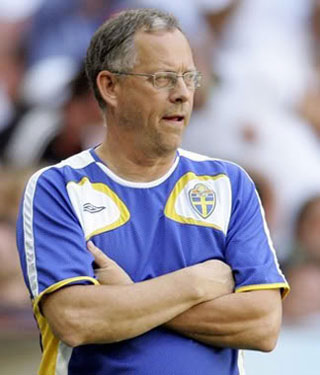 Eagle Coach
"There is nothing special about the new man you people hired with Tax payers money. If he was that good, why didn't he qualify his country Sweden to the World Cup", Osaile said when he called on our hotline.
"The law of Karma will haunt Nigeria in the World Cup. I have never seen such an injustice where a man sows and another comes to reap. What exactly will this man do in the few months leading to the World Cup? It is an injustice for us to use our money to pay a whiteman who was a failure in his own country to come and manage a team that another man qualified. Anyway, it will turn out to be a blessing to Amodu.
The problem with the Nigerian team is the attitude of the players and not the coach. And I don't see how the man can change the Leopard's skin within the short time. I don't see Nigeria beating Argentina or South Korea. The only good result they can get is likely to be a draw with Greece", Osaile said with so much authority like a Preacher who sees vision.
He also had words for Augustine Eguavoen and Daniel Amokachi who have been appointed assistant coaches. "Eguavoen will stain his record with his new job. As for Amokachi, Nigerians will condemn him when they crash in South Africa".
Viewed 2394 times by 1085 viewers