By Patrick Omorodion:
After a failed attempt in 2009 under coach Okey Emordi, Nigeria's home-based Super Eagles begin another chase of the new African title for players on the African continent with a visit to Niger Republic without Shaibu Amodu who was demoted from the Super Eagles termed Team A to Team B as the qualifying series begin across the continent this weekend.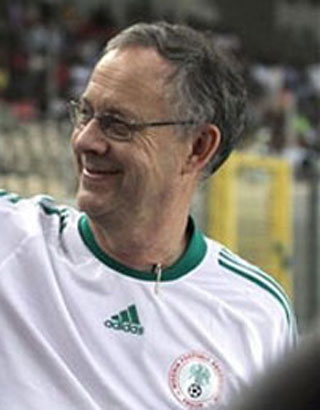 New Coach
In the absence of the Okpella-born tactician, former Super Eagles forward, Daniel Amokachi, who served with Amodu in the Super Eagles, is expected to work out the match strategies with  Aloy Agu to battle the Nigeriens in Niamey.
The Eagles Team B are drawn in West Zone B where three teams are expected to qualify for which holds in Sudan next year alongside Cote d'Ivoire, Togo, Burkina Faso, Ghana and Niger Republic.
Fifteen nations will join the host, Sudan during the finals of the competition which has seen the number of participants increased from eight at the inaugural edition in Cote d'Ivoire to 16 with new zones also carved out for the qualifiers.
Top on the list of the players to do battle in Niamey is Bayelsa United's Chibuzor Okonkwo who has been in and out of the Super Eagles but always dropped for the Europe-based
Also on the list which surprisingly has eight defenders and only four midfielders are former Under-23 goalkeeper, Bassey Akpan, Bello Kofarmata, Austine Brown, Segun Oluwaniyi, Suswan Tema, Mutiu Adegoke, John Agbawu and James Okuosa.
Others are Linus Adams, Ike ThankGod, ThankGod Amaefule, Gabriel Reuben, Ejike Uzuoenyi, Taiwo Hassan, Chiwedu Ezimorah, Idehen Osasmudamen, Uche Nwafor, Isiara Olawale and Emma Nwachi.
In the North Zone, four teams, Algeria, Libya, Tunisia and Morocco will vie for the zones two slot for the Finals while in the West Zone A, Sierra Leone, Senegal, Guinea and Mali will also battle for the two tickets available.
The participants in the Central Zone are Congo, Cameroon, Gabon, DR Congo, in the Central East Zone are Burundi, Uganda, Eritrea, Rwanda, Ethiopia, Kenya and Somalia while in the South Zone, Zambia were exempted from the first round with 10 others will vie for the remaining five slots from the zone.
Viewed 3251 times by 1384 viewers