By Tony Ubani:
AS the zero hour approaches swiftly for the World Cup in South Africa, Nigerian football is set to slide further into controversy and scrutiny as the Economic and Financial Crimes Commission, EFCC, is set to probe allegations of bribery scandal in the run-up to the employment of Lars Lagerback as Technical Adviser of the Eagles.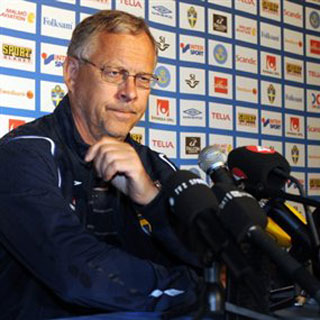 Eagle Coach

Englishman, Glen Hoddle, was said to have spilled the bean after Lagerback was chosen as the 'Special One' and Hoddle through his agent, John Shittu, alleged that his candidate lost out because he refused to 'play ball' with some members of the interview panel.  The allegation was so grave that Shittu promised to open up at an appropriate time.
Perhaps that time is now as Brila FM quoted EFCC's spokesman, Femi Babajide, as confirming that the anti-graft commission would beam their searchlight on the various allegations of bribery by inviting the actors to explain themselves on what they know.
"Yes, we are stepping in to verify the various allegations of bribery scandal alleged to have attended the employment and or denial of others for the position of the Foreign Technical Adviser of the national team. We will invite members of the interview panel, some key members of the NFA, agents of the coaches and also expect some of the coaches who may not have the chance  to come to submit written information to the commission", Babafemi said.
Coaches who attended the interview in Nigeria include Glen Hoddle, Djokovic, Bruno Metsu and Lars Lagerback. They also made contact with Sven Goran Erriksson. This and the new development in the league board may usher in the much expected cleansing of Nigerian sports which had been in the mud and bring in honest and transparent and accountable administrators who have the interest of the nation at heart.
Viewed 2965 times by 1373 viewers